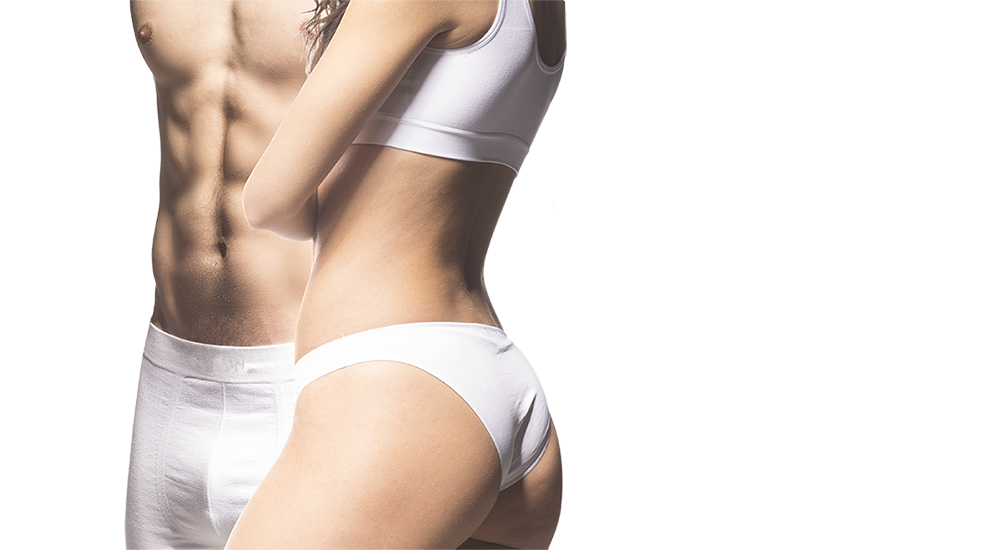 Flat Stomach, Firm Bottom or Top Body
Without Intensive Training Thanks to EMSCULPT® Treatment

Overview of the EMSCULPT® Treatment
| | |
| --- | --- |
| Indicators | Abdomen, buttocks, upper arms, calves |
| Treatment duration | 4 sessions of 30 minutes each |
| Anesthesia | Not Needed |
| Patient Stay | Not Needed |
| Downtime | None |
| Costs | from 1900 € for 4 treatments |
20,000 Sit-ups in 30 Minutes!
EMSCULPT® is a non-invasive treatment to fight against unwanted fat pads and for simultaneous muscle tightening on abdomen, buttocks, upper arms and calves, which we offer in our beauty clinic in Berlin.
The build-up of muscles and the simultaneous fat reduction is achieved by electromagnetic impulses, without the sweat inducing training by simulating thousands of sit-ups and knee bends.
Without Intensive Sport for a Better Figure Through EMSCULPT®
A flat stomach and a firm butt – who wouldn't wish for that? Until now, this has required countless strenuous workouts to melt away large and small fat pads and allow the muscles to grow. With this new method you will come closer to your dream without the lengthy training.
In order to look really good, it is not only important to reduce fat when losing weight. It is important to build and strengthen the muscles that lie under the fat do this the easier and more effective way with EMSCULPT®.
Fat Reduction and a Flat Stomach Without Surgery and Scalpel
EMSCULPT® is a state-of-the-art process approved by the FDA (Food and Drug Administration, USA). Its use is exclusively reserved for physicians and the application is not only about fat reduction. The focus is on magnetic muscle stimulation, which leads to a targeted build-up and strengthening of the muscles.
In contrast to other technologies EMSCULPT® does not use superficial stimulation current, heat or cold and scars, swellings or even burns cannot occur. Muscle build-up occurs, and at the same time abdominal fat can be lost.
This non-invasive procedure was developed by the medical device manufacturer BTL. To achieve a natural and effective muscle build-up with simultaneous fat reduction, four treatments of 30 minutes each are necessary, which are carried out in our clinic at intervals of two to three days.
To get used to the treatment, it starts with a lower intensity – during the procedure we slowly increase it to 100 percent. Within 30 minutes, up to 20,000 sit-ups or knee bends are simulated. No special preparation is necessary for the treatment. Since the application itself is painless, no anaesthesia is required.
Holistic Penetration of Fat & Muscles – This is how EMSCULPT® Works
The heart of the system is the HIFEM® technology, HIFEM stands for High Intensity Focused Electro – Magnetic Field.
For the treatment the pulse generator is strapped to the abdomen or buttocks, when activated, it generates an electromagnetic field. In the area to be treated, the field penetrates fat AND muscles. Within milliseconds, it stimulates the muscles to perform thousands of contractions (contractions/ shortening of muscles). Without sport, sweat and effort, the muscles are activated to a degree that would not be possible even with the strongest workout.
A Good Figure Without Surgery – Gentle all Around Body Forming
Fat pads are a problem for women and men: They are extremely persistent. A simple diet and intensive sports programmes often do not achieve the desired goal leaving few options to address the problem.
Downtimes were Yesterday – with EMSCULPT® you are Ready to go
This is a treatment that is completely free of scalpel, anesthesia and the associated downtime that entails. The patient can get up immediately after the treatment and can immediately go about his business. All that can be felt is that the muscles in this area have been intensively strained.
Defined Muscle Building and Maximum Fat Reduction
The effect of EMSCULPT® is based on the achievement of supramaximal contractions, this intensity cannot be achieved with conventional strength training in a studio or gym. If the pulse generator performs the usual half-hour work, this corresponds to approximately 20,000 sit-ups or knee bends.
For the muscle tissue this means that it has to react to this maximum stimulation. In order to make this possible, the organism transforms the muscle tissue in the treated areas in its internal structure. This results in comprehensive muscle development and intensive fat burning.
Support your Workout with EMSCULPT
EMSCULPT® offers patients the possibility to reach their goal of a beautifully shaped and taut figure without the need for long training.
How the Body Reacts to Treatment
The body reacts to a treatment unit with EMSCULPT® as to intensive (strength) training. As these are supramaximal contractions, the muscle build-up is faster and more intensive.
According to various medical studies from the USA, the following findings have been made:
By using EMSCULPT® the number of muscle fibres, the myofibrils, increases and becomes thicker.
The US studies further prove an average muscle gain of 16% on average. The values of fat reduction even exceeded the build-up: an average fat reduction of 19% was achieved on the stomach. The final result is achieved after eight to ten weeks.
Make a non-binding appointment for a consultation in our beauty clinic in Berlin, the Klinik am Wittenbergplatz.
EMSCULPT® -supports you to achieve an even more beautiful body shape in a short time.
EMSCULPT® Helps to Improve Rectus Diastasis after Giving Birth
What is Rectus Diastasis?
Rectus diastasis is a change in which the straight abdominal wall muscles (rectus abdominis muscle on the right and left) diverge. The muscular support of the central abdominal wall is thus reduced and bulges. This is particularly noticeable when the woman lies down and then stands up.
What Causes Rectus Diastasis?
Rectus diastasis occurs after pregnancy, among other things. The increased intra-abdominal pressure, i.e. pressure in the abdomen during pregnancy, widens the connection between the straight abdominal wall muscles, they come apart. The connective tissue between the two muscles is rather weak, cannot withstand the pressure in the abdomen, the area bulges out.
Despite a healthy diet and regular physical activity, some women can still look as if they were several months pregnant long after giving birth.
In the past, surgery was the only option against rectus diastasis. A new non-invasive procedure called EMSCULPT® now offers the possibility to strengthen the straight abdominal muscles and thus make diastasis less pronounced.
The study by Carolyn I. Jacob MD, FAAD and Paula Lozanova MD: "Efficacy of treatment with HIFEM procedure in woman after childbirth", shows a reduction of the rectus diastasis by 16.6% four weeks after the fourth EMSCULPT® treatment.
FAQ
Answers to Frequently Asked Questions about EMSCULPT® Treatments:
How Does the Treatment with Electromagnetic Impulses Work?
In the area to be treated, for example the abdomen or buttocks, the pulse generator applicator is strapped on. It generates a strong electromagnetic field and causes the muscles to undergo thousands of intense contractions, so-called supracontractions.
For Which People is this Magnetic Field Treatment Suitable?
Men and women can benefit from this procedure although pure weight loss is not the focus of EMSCULPT®. If you are very overweight with large fat deposits on your stomach or bottom, you cannot be treated with this procedure. In case of larger fat depots liposuction promises better results.
What are the Disadvantages of an Application with EMSCULPT®?
People who are very overweight are not suitable for this procedure. The same applies to people who carry metal implants in their bodies or who are not allowed to undergo an MRI or CT.
Are EMS Devices the Same as EMSCULPT®?
The electro-myo-stimulation, in short EMS, works with electric current. Electric current seeks the path of least resistance and thus flows mainly through the skin and hardly through the muscle. Often more than 40 applications are necessary to achieve small results.
EMSCULPT® on the other hand does not work with electricity, it generates an electromagnetic field and thus penetrates the entire muscle. The nerves of the muscles are stimulated, which then react with a supra contraction. This kind of contraction is not possible with strength training.
Is EMSCULPT® Safe?
Yes! Because in contrast to EMS devices no current flows. No needles or scalpels are used or technologies that "freeze" the grease away. In addition, it may only be used in medical practices.
What are the Possible Risks and Side Effects?
In general you should be healthy and fit for a treatment with EMSCULPT®.
EMSCULPT® is contraindicated during pregnancy and lactation. If you wear metal implants in the abdominal area, the upper part of the legs, in the area of the hips or buttocks or if you have a pacemaker, this procedure is not suitable for you. If a copper coil is used for contraception, the abdomen and buttocks cannot be treated either.
During treatment, slight swelling or redness may rarely occur in the treated areas of the body. But they usually subside quickly and do not require any additional treatment. After the treatment, the treated muscles feel exhausted and iIt is possible that sore muscles may occur.
How many Applications are Necessary for Body Shaping?
In order to achieve the desired result, a somewhat fit/athletic personality is favourable, but not a prerequisite. Usually, a treatment package consists of a total of four sessions. The sessions are carried out at intervals of two to three days. How many sessions are necessary varies from patient to patient.
What can I Expect from EMSCULPT®?
According to available studies a muscle gain of about 16% can be achieved with EMSCULPT®, along with a fat reduction of about 19%.
When can I see the First Result?
This varies from patient to patient. While some patients can already see positive changes after the first session, others require several sessions. After eight to ten weeks the process is complete.
Can I Tighten my Buttocks Without Surgery or Sports?
YES. This procedure quickly builds up muscles. In the area of buttock modelling (the system has its own program configuration for this), the focus is on building and strengthening the muscles. Fat is not reduced at the buttocks. After the treatment is completed, the buttocks appear firmer and visibly raised.
Who Carries out EMSCULPT®?
Applications with EMSCULPT® are exclusively performed in medical practices.
Are there Scientific Studies on EMSCULPT®?
Yes, currently 14 studies, carried out at universities and clinics, confirm the effect.
The system has been tested and approved for use by both the American FDA and the European regulatory authorities. The system is of course Medical Device and CE certified.
What does this Body Forming Cost?
The treatment, consisting of four sessions, costs 1.900 €. In order to achieve an optimal result, four sessions are required at intervals of two to three days.
Do I Have to do Sports After the Treatment?
Muscles are extremely "lazy". If they are not trained or used regularly, the body reduces the existing muscle mass again. However, studies show that the results last for at least 1 year, probably even longer. Moderate training and sufficient sport during and after the treatment series, have a beneficial effect and thus reinforce the desired result. It is important to drink plenty of water during the treatment phase. 2.5 to 3 litres of water per day, help the body to eliminate dead fat cells from the body.